64 of the Best Creative Apps to Inspire Your Content Marketing
We all love apps. Even though the App Store and Google Play (originally the Android Market) have only been around since 2008, apps have completely revolutionised how we live, work and play. With over 1.2 million apps in the App Store and 1.3 million on Google Play, who has the time to figure out which apps are worth your time? That's why we've curated a list of 64 of the best creative apps to inspire you and get your creative juices flowing. Not just creativity in terms of sketching, photography and writing, but in creative ways to overcome issues of organisation and productivity as well.
You can navigate to individual sections using the below links:
The Best Productivity Apps
The Best Social Apps
The Best Apps for Digital Storytelling
The Best Photo Apps
The Best Video Apps for Making Movies
The Best Drawing Apps, Sketching Apps and Painting Apps
The Best Writing Apps
The Best Productivity Apps
Awesome Note
Paid [iOS]
Awesome Note has a little bit of everything, with key features such as note taking, calendar, to-do lists, diary, date reminders, shopping lists, and a travel journal. Aiming to be the be-all and end-all, of productivity apps, Awesome Note does a good job of helping you organise everything in your life. Awesome Note also supports attaching images, maps and drawings to your notes for further customisation. You can also sync your notes to Google Drive or Evernote, or save backups via Wi-Fi.
Evernote
Awesome Note has a little bit of everything, with key features such as note taking, calendar, to-do lists, diary, date reminders, shopping lists, and a travel journal. Aiming to be the be-all and end-all, of productivity apps, Awesome Note does a good job of helping you organise everything in your life. Awesome Note also supports attaching images, maps and drawings to your notes for further customisation. You can also sync your notes to Google Drive or Evernote, or save backups via Wi-Fi.
Evernote
Evernote, the king of note-taking apps, grabs everything you save (notes, photos, lists, business cards, etc.) and keeps them safe, synched and searchable. With the browser plugin, you can save full webpages or just snippets and synch the note to all of your devices. Evernote can even help you research, collaborate with colleagues or even plan your next vacation.
Google Keep
        
Google's foray into note-taking apps has culminated in Keep. With Keep, you can set reminders, make to-do lists, upload photos or even dictate notes using Google Voice. Currently available as an Android app or web application, your notes will synch seamlessly between the two, ensuring you have up-to-date information no matter where you are. While not as packed with features as Evernote, Google Keep is still an incredibly helpful tool – especially if you use other Google apps.
Flow
Free App, Service Subscription [iOS] [Android] [OSX]
If you're in need of a way to facilitate collaboration, then Flow is a great tool to help keep your team productive and organised. Flow's Workspaces allow you to share lists, delegate tasks to team members, and ensure that everyone is on the same page. Flow also offers unique privacy settings within a team, giving you tighter control on who sees what you share.
Pocket
Free [iOS] [Android] [Web App]
 
Are you constantly emailing yourself links or have 20 tabs open in your browser? Pocket is a unique bookmarking app that will help you save important webpages while keeping them organised. Stripping the bells and whistles of most social bookmarking apps, Pocket has one purpose – to let users save and view content. Pocket also has a tagging system that lets you organise your bookmarks by category, saving you time while sifting through your cached pages.
iThoughts HD
   
iThoughts is a mind-mapping tool available for both iOS and OSX. Quickly and easily build maps to organise your thoughts. You can add images or text to your maps right from Safari to make your maps more comprehensive. Export your completed maps to other applications such as Dropbox, Pages, Microsoft Word or PowerPoint, in various formats such as DocX, PNG, PDF, Markdown and more.
Grafio
Paid [iOS]
Another mapping tool, Grafio lets you draw, sketch and plan out your ideas in a clear and organised manner. With shape recognition, any shape you draw is immediately transformed into a neat and tidy vector image. For more complicated charts, stencil images are also available. Add audio recordings and images to make your chart truly dynamic. Grafio can export your graph to a PDF file, Dropbox and Box.Net.
Wunderlist
Wunderlist allows you to plan for anything, collaborate with anyone and access your lists from anywhere. This free app is perfect for planning anything from your next website build to your next trip to the supermarket. You can share your to-do lists with others, enabling easier collaboration with family, friends or colleagues. Wunderlist is also able to synch between your different devices, ensuring you're kept up to date, no matter where you are.
TeuxDeux
If you're looking for a more bare bones to-do app then TeuxDeux might be just the ticket. The visually compelling yet simple interface allows you to create lists easily to manage your daily tasks. You can also set recurring items and custom lists. Markdown is also supported, letting you add additional formatting to your lists, such as bolded words or clickable URLs.
Clear
  
Featuring a minimalist, gradient design, Clear helps make managing your time more efficient than ever. Create multiple lists, set reminders and even customise the colour theme. Your lists can be synced across different devices using iCloud, offering you up to date lists whether you're at home, the office or somewhere in between.
Trello
Free [iOS] [Android] [Windows]
  
Geared more towards professionals, Trello allows easy collaboration between team members. Trello makes sure you know "what needs to get done, who's going to do it, and what's coming up next." Create boards for each project you're working on, and add to-dos to improve organisation. You can assign tasks to certain people, and a comments section lets colleagues keep each other up to date on any developments.
Dragon Dictation
  
Claiming to be five times faster than manually typing on a smartphone keyboard, Dragon Dictation is one of the leaders in voice recognition software for mobile devices. Your voice-to-text transcriptions may be sent as an SMS, email, Facebook post or Twitter update. Dragon Dictation also recognises many different global languages. However, you do need either Wi-Fi or 3G connectivity for the app to work.
Mailbox
  
The perfect app to tame your inbox, Mailbox utilises unique swipe gestures to help you to create to-do lists, archive old emails, or even put off emails until a later date. At this time, Mailbox works only with Gmail, but plans to expand compatibility are in the works.
Dispatch
Paid [iOS]
  
Similar to the action-based interface of Mailbox, Dispatch offers further integration to 31 other apps, including Evernote, Draft, Due, Pocket, Calendar and Twitter. Better yet, Dispatch works with all IMAP-based email accounts, such as Yahoo!, iCloud and AOL.
Swizzle
Free [iOS]
  
Tired of those weekly or daily promotional emails and newsletters? Swizzle can help you unclutter your inbox and focus on what's truly important. Once you grant Swizzle access to your email, it scans through your inbox to find all of the promotional emails and provide you with a list of their senders. From there, you can either unsubscribe from all, some, or create a single weekly digest of all of those offers.
Quip
  
A relatively new entrant into collaborative apps, Quip offers a host of robust features to improve productivity and aid collaboration. Quip comes with standard features such as collaborative editing, edit tracking, shared folders, checklists and messaging. However, Quip does offer some unique features that make it stand out from the rest. 'Presence' lets you see which users are online, what they're doing and from which device they're working. Quip also supports @mentions, which allows you to reference a team member or even another document.
Parallels Access
Free App, Paid Subscription [iOS] [Android] [OSX]
 
Parallels originally started as a software application for Mac owners to run Windows software on their computer. With the advent of Parallels Access, you can now remotely connect to your Mac or Windows PC via your iPhone, iPad or Android device. Parallels renders your desktop applications as native mobile apps, offering a simple and efficient user experience. Parallels Access also allows you to wake the host computer, ensuring that you have access whenever you need it. It also takes security to heart, requiring a password to log in, and the option of blacking out the host computer and muting its speakers.
The Best Social Apps
IFTTT
  
Aiming to automate your digital life, IFTTT will "put the internet to work for you." Pronounced like 'gift' without the 'g,' IFTTT stands for If This Then That. Create recipes following this formula and the rest of your digital duties will be taken care of. For a recipe to work, each needs a trigger and an action. For example, if you are tagged in a photo on Facebook, then save that photo to your Dropbox account. IFTTT recipes are supported by 110 social channels, with more being added continuously. You can browse all shared recipes here.
Discovr People
Paid [iOS]
If your Twitter feed has become stale, then consider using Discovr People to help you find more quality users to follow. To get started, simply type in someone's twitter username, and a web of that users' best connections is created. From there, you can browse these users' tweets, connections, mentions, as well as view Top Twitter lists, featured lists and your own lists. Save the users you've found into a custom Twitter list that you can share via Twitter, Facebook or email.
Buffer
  
Buffer is an incredible app that lets you queue up posts for all of your social media accounts. Simply draft your post, schedule a time, and then pick the networks on which you would like to share it. Buffer currently works with Facebook, Twitter, LinkedIn, App.net and Google Plus. Upload in batches and your posts will be spread evenly throughout the day. Analytics are also available for each update, with information on clicks, retweets, likes, shares, mentions and more.
Tweet Deck
Free [Desktop App] [Web App]

Though once a mobile app, Twitter has transformed Tweet Deck into a desktop and browser app exclusively. Get more out of your Twitter feed by organising and building custom timelines, managing multiple accounts or even track searches, hashtags and events. You can also mute users, so they never show up in your timeline, or turn on alerts to stay on top of breaking information. Tweetdeck even allows you to filter searches based on criteria like engagement, users and content type.
Hootsuite
Free [iOS] [Android] [Web App]
  
Similar to Buffer, Hootsuite allows you to compose and schedule posts for your Twitter, Facebook, LinkedIn, and Foursquare profiles. Free for up to three social accounts, Hootsuite updates can be scheduled at specific times, or spread evenly throughout the day. Tweet statistics are also available to help you figure out the best time to post updates.
Everypost
Yet another post scheduler, Everypost offers a unique host of extra features that really set it apart. In addition to queuing posts for all of your social networks, Everypost also provides a history of previous updates. You can even customise your content depending on which channel you're using. Everypost gives you tighter control over your posts, with URL shorteners, photo quality settings, photo filters, geotagging, Facebook friend tagging, Google Plus mentions and more.
Hangouts
One of the best features of Google Plus, Hangouts is finally available on your mobile device. Send messages, photos, videos, and animated stickers to friends, family or colleagues with this free app. You can even make a video call with up to 10 people at once. Hangouts are available on mobile devices, on Google Plus or even right within Gmail, so you can always stay connected.
Yonder
Free [iOS]
  
Yonder takes a unique outdoorsy approach to social media. Perfect for outdoor sport enthusiasts, users can share photos and videos of their hiking, kayaking or rock climbing excursions to a shared map for others to discover. Want to try something new? Simply open the map to see what activities others around you have been getting up to. You can even follow your favourite bikers, hikers, climbers, and skiers to stay up to date with their adventures. The app currently supports 22 different sports and activities, and you may either browse the feed or explore the map. Yonder boasts thousands of shared images and videos, and is available in 20,000 locations and growing.
Flow for Instagram
Free [iOS]
With no native Instagram app for iPad, there are a multitude of different third-party Instagram viewers. Flow for Instagram has to be one of the best. Flow takes full advantage of the iPad's larger screen by displaying your field as a large grid. All of Instagram's basic features are available (save for posting new photos), and you can easily navigate using intuitive swipe gestures. Flow also features a gorgeous minimalist design that looks right at home on iOS 7. Flow also incorporates some unique features of its own, such as shopping and fashion feeds for each country, a save-to-camera roll option and location bookmarks to see what pics are being posted in your favourite spots.
Loop Social Polling
Free [iOS]
  
Loop is a great way to get opinions or make decisions with your friends on the fly. The intuitive user interface allows you to create different types of polls such as Yes/No, Multiple Choice or Photo polls. Connect the app to your Pinboard or Amazon to get your friends' opinions on what they like best. Loop also provides an infographic of the poll's results, allowing you to filter through the data by age and gender.
Timehop

Ever want to jump back in time and see what you were doing in years past? Well now it's possible with Timehop. Just connect all of your social accounts to the app, and Timehop will give you a daily digest of what you posted on the current day in previous years. Timehop helps bring back memories and may leave you feeling nostalgic for years gone by. Or it might have you rolling your eyes at your previous self's foolishness. Either way, it's a fun, free app that shouldn't be missed.
The Best Apps for Digital Storytelling
Storify
Free [Web App]

Storify is a great web application that empowers you to tell a story by aggregating updates from different social platforms and sources. Curate articles, tweets from journalists and thought leaders, and other media to create a dynamic, social and interactive story. Storify's goal is to "help you sort through the noise to find the voices online that matter," and they do just that. Search existing stories or browse through ones that are trending. More than just content curation, Storify also allows you to add your own narrative and embed the entire story anywhere else on the web.
Magisto
Free [iOS] [Android] [Web App]

Magisto, the 'Magical Movie Editor,' is a unique way to make a movie and tell your story. The app uses an algorithm to select the best parts of your videos and splices them together with your photos and background music to make a beautiful video, all within minutes. If you prefer, you can manually edit and select which footage to use. Magisto is free to use but does offer a Premium version. For either $5 per month or $18 per annum, you can create longer movies, add up to 30 photos or 25 clips per movie, utilise cloud storage, and enjoy unlimited SD downloads.
Flowboard
Free [iOS]

Publish interactive stories with the Flowboard presentation app for the iPad. Begin by choosing a template or start from scratch. Add images, videos, text, links or photo galleries, or pull media from your Instagram, Dropbox, Facebook, Google accounts and more to make a truly dynamic presentation. Flowboard offers complete control over the design of your presentation by letting you drag and drop, and pinch to zoom to ensure the perfect layout. Share your finished presentation via Facebook, Twitter, email, or with a unique URL that can be copied anywhere online.
Carousel
  
Carousel is a peripheral app from Dropbox that creates a gallery for you to view all of your photos in Dropbox. Carousel also automatically backs up photos and videos to Dropbox as you take them, so all your memories are kept safe in one place. The private messaging feature allows you to chat with friends and swap photos easily. Carousel will also save you valuable storage space on your phone by storing all of your photos on the cloud instead of locally on your device.
Fotobabble
Free [iOS]
 
Fotobabble has created a novel way to share your photos by letting you record an audio message to go along with it. Tell the story behind the snap and create a more engaging piece of media to share with friends and family. Share your Fotobabble on Facebook, Twitter or embed it on any website.
Google Story Builder
Free [Web App]

A fun little web app, Google Story Builder lets you create short videos using Google Docs as the setting. Add your characters and then start writing your story. Characters can chat, collaborate or argue by means of adding text or editing what the previous character wrote. When you're finished, add some dramatic music and start sharing. Head over to the Story Builder to see four different examples of the Builder in action. This web app is a great way for getting both kids and adults to think creatively.
VideoScribe
Paid [iOS] [Android] [Desktop App]

A cross between productivity and storytelling, VideoScribe lets you make your own whiteboards fast. Packed with stock images, you don't need to know how to draw in order to create a professional looking scribe video – though the option to hand-draw your images is always available. A number of fonts and background colours are also available, allowing you to personalise the video to your exact specifications. Add background music or a voice over and your video scribe is ready to be shared.
The Best Photo Apps
VSCO Cam
  
Take your photos to the next level with professional image editing with VSCO Cam. Free to download, the app comes with a set of basic filters and tools for image editing, such as exposure, contrast, saturation, hue, and so on. Filter packs are available as in-app purchases and greatly expand the VSCO experience. The in-app camera also boasts such features as white balance lock, full screen shutter button, separate focus, and exposure rings. So if you want to move away from the cliché Instagram filters and towards more professional looking edits, then VSCO Cam is your app.
Mextures
Paid [iOS]
  
A more artistic take on photo editing, Mextures offers countless combinations of textures, grains, light leaks and more to add to your photos. After you find a combination that you love, save the Formula to use later or share with your friends. The app comes with a few default Formulas to get you started, but the real fun lies in creating your own. So far, the app boasts 130 textures, and is growing constantly.
PicMonkey
Free [Web App]

Started by two former engineers for the popular image-editing site Picnik, PicMonkey is a web-based app for basic image editing. Touch up your photos, add text, borders, backgrounds and stickers, crop, rotate and resize images – the features are endless. A great entry into basic graphic design, you'll be amazed by what you never thought you could create.
Canva
Free [Web App]

Incredibly easy to use, Canva will be your go-to app when designing images for your blog, Facebook cover photo or Pinterest. With 17 available templates, Canva makes designing custom graphics a snap. Their website also features Editor's Picks for some inspiration, as well as design tutorials so you can learn how to get the most out of Canva's features. Canva also provides heaps of stock patterns, images, and other design elements giving users a robust and rich design experience.
Pixlr Express
Free [iOS] [Android] [Web App]
  
Available as both a mobile app and web app, Pixlr Express is very versatile image editor. Boasting more than 600 effects, overlays and borders, chances are you'll find the perfect treatments to personalise your photos. You can also do basic touch-ups, including crop, resize, redeye removal and whiten teeth.
Handy Photo
  
Correct and enhance your photos with the professional features of Handy Photo. With the innovative Move Me tool, you can move objects from one photo to another in just a few taps. A must have for all photo apps, Handy Photo also has a suite of photo filters that you can apply to either the full photo or just part of it – allowing you to combine filters within the same photo.
Pic Collage
  
Create custom collages from your own photos with the Pic Collage app from developer Cardinal Blue. Add as many images you want while choosing from multiple templates, borders and backgrounds. Add a little flair to your collage with fun stickers, fonts, web images and YouTube videos. When you're done, you can share your collage via Facebook, Twitter, Instagram or Tumblr.
Waterlogue
Paid [iOS]
  
Create gorgeous watercolour versions of your favourite photos with Waterlogue. The app comes with 12 pre-set watercolour filters, but further customisation is available by changing the wetness, pen outlines and colour.
Mematic
Free [iOS]
  
Though not as feature heavy as some of the others, Mematic is all about having a good laugh. Create a classic demotivational poster or advice animal meme using your own photos or photos from the web. Add some text and then you're ready to share the photo via Facebook, Twitter or email.
Pic Lab HD
  
Pic Lab allows you to add gorgeous typography, artwork, light leaks, textures, grains, photo filters, adjustments, and much more to your photos. The user interface is rather intuitive and easy to use. At current, there are already over 100 overlays available and the list is constantly growing. Explore #PicLab for some inspiration from other Pic Lab users.
The Best Video Apps for Making Movies
iMotion HD
Free [iOS]
  
Increasing the functionality of your iPhone's camera, iMotion HD allows you to create both stop-motion and time-lapse videos. The user interface is extremely straightforward and easy to understand – simply point and shoot. Videos can be saved to your camera roll in high definition 1080p or 780p, or exported directly to YouTube.
Animation Desk

Create hand-drawn animations right on your tablet with Animation Desk. Replicating an animator's real working environment in the app's user interface, Animation Desk allows you to easily create your own animated works. Four sets of frame speeds are supported, as well as dynamic and static backgrounds, stamp tool, palm rejection, and audio support.
Intro Designer
Free [iOS]
Design custom movie intros, openers, end credits and more with Intro Designer for iOS. Twenty-one different templates are available for you to choose from, as well as custom fonts, music and other audio clips. The design process is fairly straightforward – simply choose the template, then customise it with text, audio and your photos and videos.
Animoto
Free [iOS] [Android] [Web App]

One of the oldest video editing apps out there, Animoto has been helping users create stunning videos for many years. Choose from over 50 different video styles and hundreds of songs to start creating your video. You can add captions, trim video clips and create title cards. Once you are finished you can share you video via email, Messages, Facebook or Twitter. While free to use, Animoto does also offer premium subscriptions for additional features.
iMovie
Paid [iOS]

A no brainer to include on this list. Create professional looking movies with Apple's native iMovie app. Porting the desktop app to iOS, Apple has succeeded in creating a feature-rich app that's still easy to use on a mobile device. Customise your movie with various themes, audio tracks, transitions, audio features – the list goes on. Your stunning HD video can be shared with friends and family via Messages, Mail, Air Drop and all of your social media accounts.
The Best Drawing Apps, Sketching Apps and Painting Apps
Tayasui Sketches
Free [iOS]

A very elegant drawing app, Tayasui Sketches features a gorgeous, minimalist design. Controls are very responsive, and the tool set is very well rounded for people wanting to create something amazing on their iPad. You can change the size and colour for each of the tools, and in-app purchases give you the ability to expand upon the stock set of pens and brushes, as well as additional features such as layering and canvas backgrounds.
Penultimate
Free [iOS]
   
A part of the Evernote suite of apps, Penultimate offers a great platform to sketch out your ideas, get creative or jot down some notes. Claiming to have "the most natural digital handwriting experience on iPad," Penultimate can prevent stray marks with the automatic Wrist Protection mode. Penultimate brings Evernote connectivity to handwritten journaling, with synchronisation between apps and a powerful search that can even sort through hand-written content.
Procreate
Paid [iOS]

An iPad exclusive, Procreate was an Apple Design Award recipient in 2013. A powerful digital illustration app, Procreate boasts a full suite of features suitable for professionals. With superior control features like 250 levels of undo, custom canvas sizes and 120 brushes, you'll have all the tools required to make your masterpiece come to life.
Skitch
  
Yet another app from the Evernote suite, Skitch is a basic image annotator. Make notes or draw a sketch on a photo, screenshot or map page. Students can use it in school to label diagrams, professionals can use it to mark up changes to a PDF, or home owners can use it to plan out a new vegetable garden. No matter what you use it for, sketching out your ideas has never been easier.
Paper by FiftyThree
Free [iOS]

Paper allows you to capture your ideas as sketches, diagrams, illustrations, notes or drawings and share them across the web. Though the gesture-based navigation takes a while to get used to, it really feels quite natural after getting into the swing of it. FiftyThree also bolsters the Paper experience with the advent of Pencil and Book. Pencil is a special stylus designed exclusively to be used with Paper, while FiftyThree's Book service allows you to print a physical version of your sketchbook.
Art Rage
Paid [iOS] [Desktop App]
  
Another highly recommended painting/sketching app, Art Rage, takes things further by offering great features such as layers and more mediums to take advantage of. Art Rage also allows you to import a photo, so you can convert it into oil for smearing or just to be used as reference. Another neat feature of Art Rage is stroke recording, where the app makes a video of you creating your piece, which can be then viewed on your desktop computer.
Morpholio Trace
Free [iOS]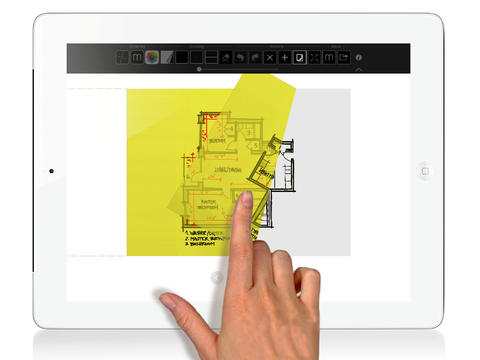 Trace is a drafting tool that lets you create sketches on top of photos from your camera roll or other sources. The app supports multiple layers, and different types of brushes and pencils. Trace is great for contractors or architects, or even someone just looking to renovate their home or garden. A 'no frills' app, Trace was designed to be functional and succeeds greatly.
Sketchbook Express

Utilise professional-grade tools and brushes to create everything from doodles or sketches to artwork on the go. There are 15 preset brushes, with the option to buy more via in-app purchases. Sketchbook Express lets users input text with a variety of fonts, colours and sizes. The multi-touch navigation features two-finger pinch to zoom, a three-finger tap to bring up menu controls and a three-finger swipe gesture for quick access. The app also supports layers, but only up to three per sketch.
Adobe Ideas
Free [iOS]
  
Similar to Sketchbook Express, Adobe Ideas allows you to create freeform vector images. The app features a host of customizable brushes and pressure sensitive stylus support. Not only can you customise your brushes, you can also customise the menu, giving you quick access to all of your favourite tools. Layers are supported, with the option to duplicate them or merge them to save space. There is also 50-level undo/redo support, letting you correct any mistakes.
The Best Writing Apps
iA Writer
Paid [iOS]
  
Designed to keep you focused, iA Writer features a minimalist design that cuts away all the clutter. Focus Mode fades everything but the three lines of text you are working on, constantly focusing your attention to the sentence at hand. The absence of menus, toolbars and spell checkers prevents you from being distracted, giving you the discipline you need to start writing.
Editorial
Paid [iOS]
Featuring powerful markdown and workflow automation, Editorial is one of the most robust plain text editors for iOS. You can sync your work with Dropbox, and browse older versions right within the app. There's an extended keyboard designed to make writing Markdown easier, and includes all the special characters you will need. Additional features include interactive prompt for Python, custom UI editor and full text search.
Day One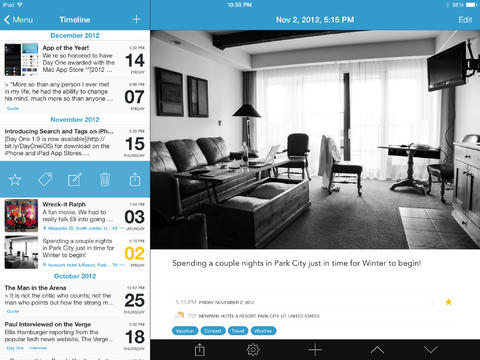 If you've been wanting to get into journaling but can't find the motivation, then Day One is the app for you. The iOS app features customised writing reminders, and the OSX version has writing prompts and inspirational quotes to get the creative juices flowing. Organisation is impeccable thanks to Day One's built-in tagging system. Simply tag your entries and then you can either view entries by tag or chronologically. Day One can also be as private or open as you want it to be. There's a passcode security feature, and all of the standard sharing features in case you want to let friends and family to keep up with your day-to-day musings.
Write
Paid [Android]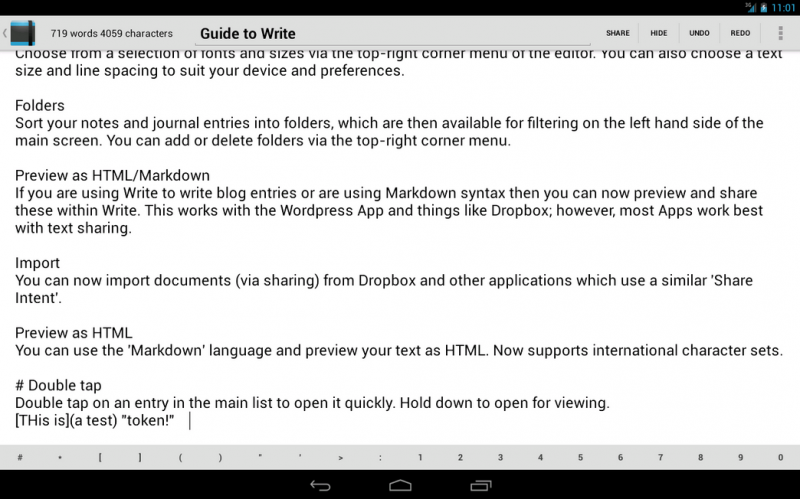 Take notes, write journal entries or write a school paper with Write, exclusively for Android tablets. Write helps you focus and minimize distractions with its full-screen mode. The automatic saving feature also prevent you from losing any of your work – saving whenever you go back to the main menu, switch to another app, or go to the home screen. There's also a statistics menu so you can keep track of word and character count. It's no wonder why Write was named one of CNET's Best Android notepad apps for students.
Poetreat
Free [iOS]
 
Definitely the most creative writing app on the list, Poetreat helps you create poems by suggesting words based on your selected rhyme scheme. Build your own rhyme scheme using A, B, C or D or use tried and true standards such as ABAB or AABB. As you write, the app shows you different words that fit within this rhyming scheme. Once you're done with your poem, you can share it with your social channels or via email.
And that's your lot; 64 Apps to inspire creativity and boost your content marketing efforts. Do let us know which of these are your favourites, and whether we've missed off anything from the list.
Written by TJ Beard